ST. AUGUSTINE'S CHURCH
Edgbaston, Birmingham
Regular Worship this Month
Our Worship follows traditional Anglican patterns and is centred on the Mass, the foremost Christian act of worship.
Services follow the schedule shown below and any changes to this will be advertised in the Parish Diary. We are also able to offer Baptisms, Weddings and Funerals. Please contact us for more information on any of these services.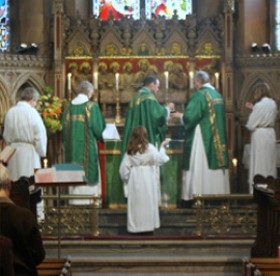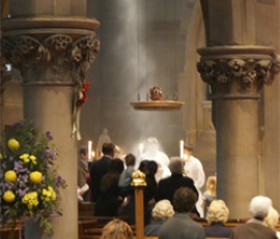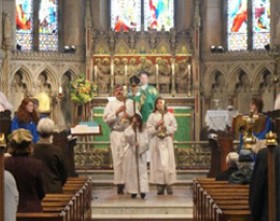 Sunday
8.00am - Mass
10.30am - Parish Mass & Sunday School (followed by tea, coffee and biscuits)
6.30pm - Choral Evensong - (followed by Benediction on major festivals)
Monday
11.30am - Mass
12 noon - Prayer Lunch
Tuesday
6.00pm - Mass (usually in Latin)
Wednesday
7.30am - Mass by Candlelight
Thursday
10.30am - Mass
Friday
7.30am - Mass
Saturday
9.00am - Mass (followed by Breakfast)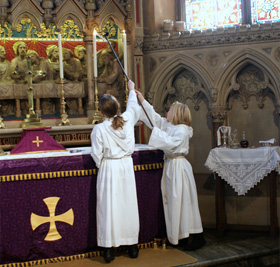 Sunday School
We operate a Sunday School, which is held at 10.30am at the Church Hall, St. Augustine's House, 9 Lyttelton Road and welcome children between the ages of 4 and 12.
Young acolytes can be seen below lighting altar candles on the fourth Sunday of the month when Sunday School is held in church. The children take an active role in worship.
The children are encouraged to participate in worship, providing plays at all major festivals. For younger children, there is also a Play Area with toys and books in the Narthex.
Support our work at St. Augustine's by making a donation via Paypal.