January
13th January - 3rd February - Book Sale

February
6th February - 66th Anniversary of the Accession of the Queen
14th February - Ash Wednesday
16th February (1pm) - Reception following the unveiling of a Blue Plaque at 6 Manor Road to Sir Gilbert Barling, first Chairman of The Birmingham Civic Society, as part of the centenary celebrations of the Society - Find out more»
17th February - COMMUNITY EVENT: The Bird's Wedding Day - a community creativity day, as well as a celebration of the life of Rosslyn Bruce, Vicar of St Augustine's 1912-1923.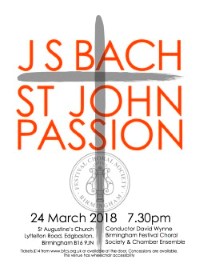 March
6th March - CONCERT: Roberto Tardito: El Llibre de vermeil de Montserrat - Find out more »
11th March - Mothering Sunday
24th March - CONCERT: Birmingham Festival Choral Society - Find out more »
25th March - Palm Sunday
29th March - Maundy Thursday
30th March - Good Friday

April
April - Erection of Sir Gilbert Barling's Hatchment
1st April - Easter Day
22nd April - RECITAL: Voice and Piano Recital by Samantha Oxborough (Mezzo-Soprano) and Yijiao Feng (Piano) from the Royal Birmingham Conservatoire - including works by Schumann, Schubert, Faure and others.
23rd April - St George's Day
30th April - Restoration of the War Memorial to coincide with the end of World War I

May
10th May - Ascension Day
20th May - Whit Sunday

June
2nd June - Coronation Day
30th June - Church Fete

July
8th July - Parish Outing

September
8th September - CONCERT: "Seriously", Gilbert & Sullivan by Ormond Opera - Find out more raquo;
15th September - SERVICE OF THANKSGIVING: Led by the Bishop of Birmingham to include Inauguration of the new digital organ and a newly composed musical work of the words of St Augustine
29th September - CONCERT: City of Birmingham Brass Band - Find out more raquo;

October
2nd October - St Augustine's is 150 years old
7th October - Harvest Festival followed by Sesquicentenary Luncheon at the Plough & Harrow

There are other concerts planned, including Ex Cathedra, West Midlands Fire Service Band, and recitals from students of the Royal Birmingham Conservatoire and we are just confirming the dates with the performers. We are also in the process of creating commemorative china and a tea towel to commemorate our Sesquicentenary. Details to appear here in due course.